I've created a custom Shade the Echidna model and successfully imported it into Mario Kart Wii, however when I've tried to match the shaders to the other characters I've ran into an issue.
Under the shaders option in Brawlbox the normal models have stage 0,1 and 2. My model only has stage 0 when I import it and it looks too light in-game, adding in stage 1 gets the star item effect working and the model looks ok, but without proper lighting, when I add stage 2, which seems to be related to the night time lighting such as on Moonview highway this happens:
If I add the materials lm_0 and lm_1 like the other characters it looks corrupted. I added both the shaders and the materials on my Black Mage import a few years back and didn't encounter these issues.
Does anyone know how to fix it?
Note: I've imported the model with and without vertex colours and the same issues arises.
---
Post Merge: January 02, 2016, 07:13:38 AM
---
If it helps, this is what the model looks like in BrawlBox v0.76b: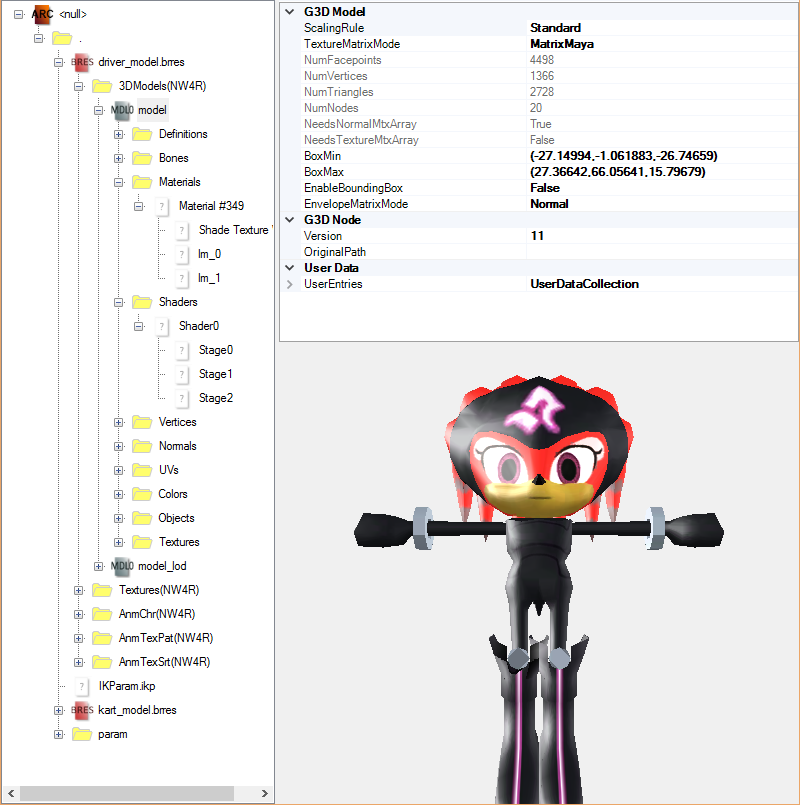 These are my settings in Brawlbox
Material:
Shade Texture:
lm_0:
lm_1:
Shader 0:
Stage 0: (this is unchanged from being imported but I have the same issues when I change it.)
Stage 1:
Stage 2:
Peach's Stage 0 for reference:
---
Post Merge: January 02, 2016, 02:46:46 PM
---
Problem Solved. All I had to do was rename the material and it worked.