| | | |
| --- | --- | --- |
| | | |











28

November 30th, 2018
Lasercraft32 Over Samus (V2)
by
Lasercraft32
with credit to Mattimation for original minecraft model. Project M for Moveset base. MoeNDerrty for Smash 4 animations.

[Character - Texture, Import, Moveset (PSA), Other (Effects, Animations, Final Smash, etc.) - Samus]

Lasercraft32, the neon gunslinger!
Lasercraft is a skilled inventor who created his own laser cannon. He 's mastered almost every fighting style. (Not in the moveset though).

Unlike Samus, he specializes in using speed to outplay your opponent and win the battle. Like project M, you can switch his moveset by using the side taunt.

His nuetral special is not a charged shot, instead, he fires a single energy blast. (uses the super scope bullet) because my mod originally used Brawl Minus mechanics, so the charged shot would not work. launches him backwards if in the air.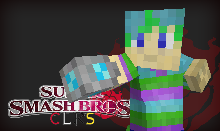 Some things to remember before reporting:
Please read the rules regarding Brawl Vault and reporting.
The following are examples of things that should be reported:

Broken downloads
Broken previews
Credit issues (e.g. using someone else's work without credit)
Usability issues (e.g. doesn't work).

Censored nudity does not need to be reported.
Reports should be clear. Don't write just "Sandbag"; explain the issue in full.
Please do not report an already reported issue. The list of current reports on this hack is below.
Please enter your report here.
---
Past Reports:
Filter by:


If you're sure you want to delete this entry, click "Yes" below. Otherwise, click "No" or close this dialog.


Visitors Online