| | | |
| --- | --- | --- |
| | | |











1300

July 15th, 2014
Going Merry V1
by
Axel Akutare
,
Chuy
with credit to DSX8

[Stage - Texture, Vertex, Import - Pirate Ship]
EVERYONE! JUMP INTO THE BRAWL!

The ship that traveled to the sky and back, Going Merry joins the Brawl!

*Edit: In addition to the Pokemon T-Pose issue, it has come to my attention that some characters are still spawning inside the Merry Head and being met with immediate death. Once my computer is back up and running this will be remedied and I'll re-release.

I have to thank DSX8 and Chuy for the great help they gave me in getting it so that the stage was playable. More pictures are to come. I also plan to replace the Bomb Platform with a Marine Ship or something later.

Known Issues:
The King of Red Lions still shows up and clips into the back of Merry.
The catapult still shows up and can hit you if you're standing on the deck near the Merry head.
Sometimes a player will spawn in the air over the Merry head rather than on it. When this happens it will only be an issue if you're playing the Pokemon Trainer, in which case the Pokemon will T-Pose until they are hit.

If you'd like to repair the issues above and release, go ahead, just remember to collab me.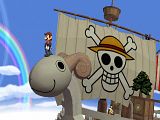 Some things to remember before reporting:
Please read the rules regarding Brawl Vault and reporting.
The following are examples of things that should be reported:

Broken downloads
Broken previews
Credit issues (e.g. using someone else's work without credit)
Usability issues (e.g. doesn't work).

Censored nudity does not need to be reported.
Reports should be clear. Don't write just "Sandbag"; explain the issue in full.
Please do not report an already reported issue. The list of current reports on this hack is below.
Please enter your report here.
---
Past Reports:
Filter by:


If you're sure you want to delete this entry, click "Yes" below. Otherwise, click "No" or close this dialog.


Visitors Online